Congolese Community (Dublin)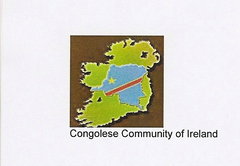 We, Congolese nationals living in Ireland, convened in General meeting,
Considering the necessity to live in a united, strong and solidarity community,
Considering the imperative need to transmit to our offspring the positive moral values for life,
In view of the non-existence of a viable structure in even to promote social cohesion, solidarity and love between us,
Considering the need to have a representation of the Community to Irish authorities as well as to the other communities,
We have decided, on this Saturday, November 1st 2008, the creation of a denominated structure: Congolese Community of Ireland (CCI).
The representatives for this structure are made responsible for carrying out all decisions taken in General meeting with the aim of the finalization of the start of this structure.
With all our wishes, let us wish success and long life to our Community. Made in Dublin, on the November 1st, 2008,
Country Information
Country Facts
Country fullname:

Democratic Republic of Congo
Country Information: Fast Facts about Democratic Republic of Congo:

- Population : (2009 est.): 68,692,542 (growth rate: 3.2%); birth rate: 42.6/1000; infant mortality rate: 81.2/1000; life expectancy: 54.3; density per sq km: 30 (62.6 million )
- Budget : US$80 to US$100 a day
- Capital : Kinshasa, 6,541,300
- Other large cities: Lubumbashi, 1,105,900; Mbuji-Mayi, 938,000; Kolwezi, 832,400; Kisangani, 523,000
- Visa : US$75 for a single-entry, one-month visa; US$140 for a 60-day, multiple-entry tourist visa
- Languages : French, Lingala, Kiswahili, Kikongo, Tshiluba
- Area : : 875,520 sq mi (2,267,599 sq km); total area: 905,568 sq mi (2,345,410 sq km)
- Borders : Congo is open as are borders with Rwanda, Burundi and Uganda. The Angolan border is also open. Tanzania, Sudan and CAR are closed. Zambia is normally open.

Time: GMT/UTC + 1 (west); GMT/UTC + 2 (east)
- Money : Congolese franc;
- Seasons : North of equator: wet (April to October), dry (December to February); south of equator: wet (November to March), dry (April to October)

President: Joseph Kabila (2001)

Prime Minister: Adolphe Muzito (2008)

The best time to go depends largely upon which area of the country you will be visiting. The dry season (and the best time to visit) in the north is from December and February while in the south it runs between April and October. Temperature: 30 Celsius degrees.

In some senses, the future can only get better. With five Unesco biospheres, whole ecosystems of teeming wildlife and an estimated US$24 trillion of untapped mineral capacity lying underneath the ground, it goes without saying that the country's potential is breathtaking.