COMMITTEE & MANAGEMENT SKILLS WORKSHOP FOR EM VOLUNTARY ORGANISATIONS
The New Communitiues Partnership (NCP) and Community Technical Aid (CTA) will run a one day Committe and Management skills workshop for voluntary organisatiuons in Dublin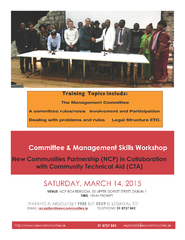 Training is FREE but Registration is essential as places are LIMITED BY MARCH 5TH, 2015 TO Email: reception@newcommunities.ie Telephone: + 353 1 8727 842
For more details visit - www.newcommunities.ie 
JOB VACANCIES & TENDERS REQUESTS FOR YOU!
We hope that 2015 will not only be a Happy New Year, but will represent a year of economic gains and turn-around for all our members and visitors. 
Here is a comprehensive listing of the current Job Vacancies and Requests for Tenders across Dublin and beyond.
Click here for Full listing  and details on responsible organisations for jobs and tender requests! 
Latest News
Upcoming Events