Public Participation Network (PPN) - Get in There!
Dublin City Council is currently in the process of establishing this Public Participation Network (PPN) for the city. The function of this network will include:
 Bringing together all groups and organisations working on a voluntary, co-operative or not for profit basis in Dublin City.
Nominating representatives to decision making bodies of the Council.
Influencing policy.
Information sharing and collaboration. 
Support and training.
 Among the structures that members of the network will have representation on are: the Council's Local and Community Development Committees (L.C.D.C.), the 7 Strategic Policy Committees and The Joint Policing Committee.
Note: All groups that register with the PPN before 1st October of a given year will have voting rights for the coming year to the various structures that will be set up under the network.
 The ruling body of the PPN is the Plenary, which will hold a number of meetings every year. Each group that registers is required to name their nominee to the Plenary and an alternative nominee should the first be unable to attend. 
 The PPN will be divided into three sectors or Electoral Colleges: Community and Voluntary, Social Inclusion, and Environmental. Each group is required to indicate which sector they are registering under based on the core work that the group undertakes.
Please see attached newspaper advert and link below for more information: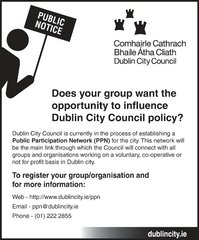 INFO SESSION - SUPPORTING MIGRANT ENTREPRENEURS SET-UP BUSINESS
Action Community & Enterprise in Collaboration with New Communities Partnership and South Dublin County Partnership
holds an information session on supports towards setting up business. 
The evening event will take place on Tuesday, September 30th, 2014 from 6pm at Conference Room, Action Community & Enterprise, Bawnogue Road, Clondalking, Dublin 22.
The expert business mentors will explore overview of challenges and opportunities, with a Q & A session. A follow up practical supports is planned to follow this initial session for ready participants! 
Anyone from the migrant community and those with migrant background are welcomed - as spaces are limited early booking is recommended through emails and phones BEFORE Setember 25, 2014 to:
Ann Reid - 01 4579 662 Email - ann@actioncommunityenterprise.ie AND Reginald Oko-Flex Inya - 01 8727 842 Email - reginald@newcommunities.ie 
Latest News
Upcoming Events