Intercultural Family Day December 3rd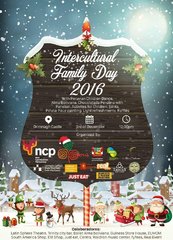 NCP, in collaboration with Peruanos en Irlanda/ Peruvian in Ireland, has organised a special and exciting Intercultural Family Day to celebrate winter holidays. This will be a wonderful event in which all the family, but specially children, will share a day filled with cultural dances, entertainment, face painting, Santa and much more.

We are proud of the work we have done this year and we want to share it with all our members, as they have been a big contribution to all the accomplishments we have had throughout the years.

Come along and bring your family to celebrate with us!!!
FREE ENTRY!

Date: Sat, 3rd December 2016.
Time: 12:00 to 17:00.
Venue: Drimnagh Castle.

Organised by: New Communities Partnership and Peruvian Community of Ireland.
Supported by: Dublin City Council through Social Inclusion Community Activation Programme, DCC Social Inclusion & Dublin City Community Co-operative.
Sponsors: Just Eat, Real events, Trinity Bar Venue, Spar, Elit Shop, Waldron Music Centre, Flybee.
New Shades of Green Photo Exhibition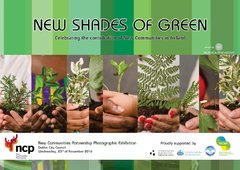 New Communities Partnership has the pleasure to invite you to the launch of our exhibition "NEW SHADES OF GREEN" on 23rd of November 2016 at 2pm in Dublin City Council - The Atrium followed by light refreshments reception.

The photographic exhibition aims to highlight the contribution of new communities members to the development of NCP over the last 13 years since its conception. The exhibition will portray individual NCP community leaders, board members, staff and volunteers who have supported our organisation over the years. The exhibition will be displayed in DCC over 2 weeks and followed by other public places over the following months.

We would be delighted to have you and members from your community attend our exhibition.
Latest News