New Shades of Green Photo Exhibition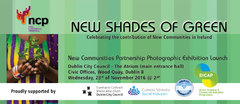 New Communities Partnership has the pleasure to invite you to the launch of our exhibition "NEW SHADES OF GREEN" on 23rd of November 2016 at 2pm in Dublin City Council - The Atrium followed by light refreshments reception.

The photographic exhibition aims to highlight the contribution of new communities members to the development of NCP over the last 13 years since its conception. The exhibition will portray individual NCP community leaders, board members, staff and volunteers who have supported our organisation over the years. The exhibition will be displayed in DCC over 2 weeks and followed by other public places over the following months.

We would be delighted to have you and members from your community attend our exhibition.
NCP Governance Code Training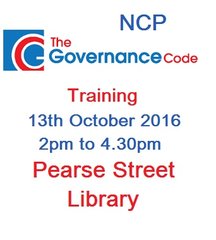 URGENT REMINDER 
The Code of Governance for Community and Voluntary Organisations FREE Training will take part on Thursday the 13th of October in Pearse Street Library (map here).
This is a GREAT OPPORTUNITY to find out how the Code will influence your organisations.
Training is free and we will subsidise (€5) your travel.
Training will cover:
-      Leading your Organisation
-      Exercising control over your organisation
-      Being transparent and accountable
-      Working effectively
-      Behaving with integrity
This training is very important in continuing your work in your community.
Please book now, limited places!
Latest News