Migrant Voter Registration Campaign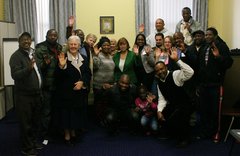 After a long day of political planning, the migrant politicos still managed to smile.
NCP and the Vincentian Partnership's public seminar 'Democratic Participation on the May 2014 European and Local 2014 Elections was held in Dublin, Saturday Nov. 23rd 2013.
Politicians, candidates, voters, Dublin City Council Franchise Department and migrants who wished to register their name on the Voting Register, spent hours discussing and planning for 2014.  
Your vote is your voice so make sure you vote on 22 - 25 May 2014. 
NCP Youth Final Preparations for Italy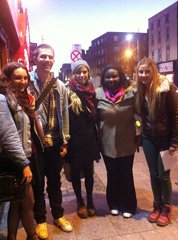 NCP Youth are busy with final preparations for their radio documentary entry for 'Raise Your Voice'. They are representing Ireland alongside 30 young documentary makers from Armenia, Ireland, Georgia, Germany and Italy.                            
The main aim of 'Raise Your Voice' is to develop media among young people which will look to solve conflicts between countries. 
Date:  10- 20th December 2013
Location. Cisternino, Italy 
Latest News
Upcoming Events