PPN First Meeting Succsesful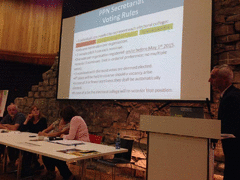 PPn Secretariat Voting Rules
Wednesday night, 20th of May 2015, at the Civic Offices of Dublin County Council, on Woods Quay, took place the first Public Participation Network meeting, the new consultative body that will replace the Forums. The PPN is organized in 3 Electoral Colleges – Community & Volunteer, Social Inclusion and Environment. This was a good occasion for the New Communities Members to have their voices heard and make their concerns known in what regards the new structure. On the same night the Secretariat of the PPN was elected and we have to congratulate our friend Mathews Thayil, from MIND Ireland, for being elected as a Secretary, one of the 3 in the Social Inclusion Electoral College. The Secretariat will do most of the day today work of the PPN. The next step is the election in the different committees where the decision process is taking place. We are waiting anxiously for Dublin County Council to make the call.
You can find more information about the PPN structures on the Dublin County Council Page
We will keep you updated!
New Communities Partnership Announces their Annual General Meeting (AGM)
Dear Members,
We are delighted to invite you to the next AGM of the New Communities Partnership.
The NCP Board will report back to members on the past year's work and introduce new board members.
We very much hope you will be able to participate in this year's AGM, which starts at 12 noon.
The AGM address is: The Ballybough Community, Youth & Sports Centre,
49 Ballybough Road, Dublin 3.
Please confirm attendance by phone call: 01 872 7842 or email: info@newcommunities.ie
Latest News
Upcoming Events