Good bye 2014, welcome 2015!
2014 has been a challenging year here in NCP; full of events, meetings, seminars, campaigns,magazines, interns and volunteers joining, some staff leaving and new staff joining the team. As challenges will continue to come it is important to continue to believe in our inner strength, our determination and passion that lie in us for the years to come.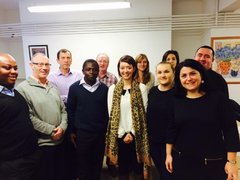 For overview our achievement in 2014 click here
NCP is 10 next year and look forward to it with great expectation!  NCP fought hard to be recognised as aneffective network representing and empowering ethnic minority-led groups and individuals, at all levels in Ireland. Our engagement and funding from various Government Departments, Local Authorities, NGOs and private entities has given us the confidence and reassurance of our vital role in the integration of ethnic minorities in Ireland and positive impact on policies that impact our lives.
We are a small team but with huge potential. NCP is here ten years later due to dedication and passion from all our staff and wonderful volunteers. It is great to see that our organisation is able to provide career opportunities not only to people from migrant background but to Irish people as well to learn about our activities, from engagement with communities and celebrate together our achievements.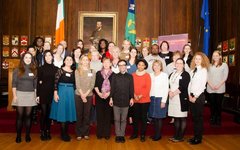 NCP is here, and thanks especially to all our funders and partners who believe in our ability, appreciate and value our contribution throughout the years.
Wishing evryone, especially our Staff, Volunteers, Interns, CE and TUS workers and members a very Peaceful time this Christmas and a Happy energy filled New Year!
Anca Lupu
NCP General Manager
DUBLIN CITIZENSHIP (Naturalisation) CEREMONY IN JANUARY 2015
The next citizenship ceremonies will take place in The Convention Centre Dublin, Spencer Dock, North Wall Quay, Dublin 1 on Friday 23rd January, 2015.
Candidates for Citizenship will attend the ceremonies where they will take an oath of fidelity to the nation, receive their certificate of naturalisation and thereby become Irish citizens. Invitations to attend the ceremonies will issue shortly. For more details visit:  http://www.inis.gov.ie/      

The New Communities Partnership (NCP) Citizenship Application Support Services (CASS) are at your service to ensure quality applications, saving you money and time - To contact us please visit: CASS
Latest News
Upcoming Events