Good Governance Training for Community Groups - Cork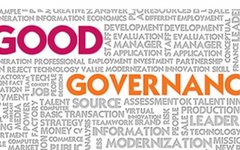 NCP Cork is offering a one day training in Good Governance for community groups.
Training will take place in mid-October. Date to be confirmed.
This training will be of benefit to all groups and will provide an
opportunity to discuss how to develop your group further and learn from others
experiences.The training facilitator Catriona Hogan who is a member of the Governance Code
Committee.

This training will cover:

Financial Good Governance and Legal Structures.

End of year Financial Report.

Appropriate policies and procedures.

Expectancy from founders.

Good communication with group members.

There are a few remaining places for the training, please send an email to ncpcork@newcommunities.ie to book your place.
NCP Parentline Coffee Morning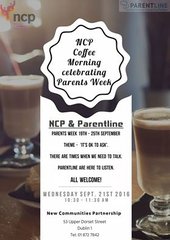 September 19th - 25th 2016 is National Parents Week.
To celebrate, New Communities Partnership will hold a coffee morning at our office on Wednesday September 21st. The event is open to everyone and we encourage you all to come along. We have invited Parentline to attend and tell us about how they are supporting parents.
The theme for this years National Parents Week is 'It's ok to ask!".
Being a parent is both joyous and challenging! Parentline runs a helpline dedicated to answering your questions and issues when it comes to parenting. The helpline is open Mon - Fri 10am - 9pm. Just call 1890 927277 or 01 8733500 (Free)
Whatever age your child is, whatever the issue – it's ok to ask!
Latest News