Youth Platform14 "Engage Conference 2014" - Dublin Castle
Youths Engage Conference takes place on August 12th, 2014 as part of International Youth Day at Dublin castle Dublin 2. 
Theme of the conference 'Getting involved in a Diverse Ireland' - aimed at engaging and empowering young ethnic minorities in Ireland.
The conference will also focus on Equality, Mental Health, Integration, Youth Leadership and Entrepreneurship all issues that affect young ethnic minorities in Ireland by addressing and focusing on both problems and solutions..
For more details please get in touch with: Email: youthplatformproject@gmail.com Mobilephones: 0860723364    0860544794
Dublin City University (DCU) Summer Program July 2014
Dublin City University is delighted to host their 4th Summer School in July 2014, with some exciting lectures and workshops lined up in areas of Health & Well-Being, Career & Personal Development and Green Living & Environment. 
As only 15 placesare available on each workshop, booking is kindly requested; however, it is also possible to simply drop in on the day.  All classes take place in DCU in the Community, Shangan Road, Dublin 9.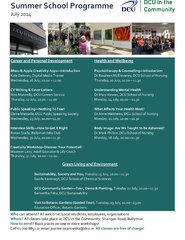 Different Workshops on iMacs Apple Creativity Apps, Career Development, Public Speaking etc will take place  each week - Tuesday 15; Tuesday 22; Tuesday 29 and finishing on 31 July 2014
 All workshops are free.
 For more details please call: 01 700 8851 Email: joanne.ozarowska@dcu.ie
Latest News
Upcoming Events